Well it's that time of year again, my friends. I hope there's something to sate everybody's appetite in my years top 5 albums:
Loading Dock Musical
I wouldn't normally be open to the idea of a movie soundtrack being one of my favourite albums of 2008, but Loading Dock Musical has so much pathos, so much restrained emotion that I have been unable to turn it off since it's release at the end of the summer.
Most of the numbers revolve around the experiences of Agnes, a mid-sixties retired schoolteacher who is forced back to work after her husband's health insurance falls through. She keeps the books in this small loading dock in Liverpool where she is the only female employee. It's a lonely, bitter affair — most of the chorus lines consist of the barbs and crude innuendo of her colleagues. The sounds of freezing winter winds undercut each song and seagulls' cries provide an almost soft offset to the cracked and broken vocals of the cast.
I've avoided actually watching the Danny Boyle directed film, I feel like it would be a pity now to undo my mental images of this sad, grey album.
Now That's What I Call Silence 4'33''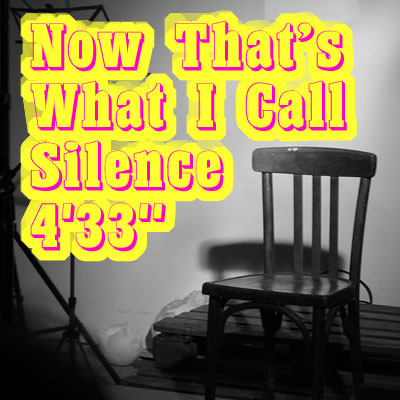 It's a wonderful idea, you have to admit. So not technically an album, but a compilation. It still warrants inclusion in the top five. Some bright spark assembled a load of big deals from current times to cover John Cage's famous work: 4'33''. The results of which have been compiled into one very interesting… compilation.
Conor Oberst is up first, and the result is overwrought and manipulative as one would expect. Smashing Pumpkins somehow got a number in there, and it's really nothing compared to their mid-'90s version of the same piece. Grizzly Bear's is more haunting than most, but Vampire Weekend's just sounds like the Coral if you ask me. The album certainly sags in the middle but towards the end picks up with an amazing version by Animal Collective. Kevin Barnes manages to curb his unnatural instincts to deliver a remarkable faithful rendition on behalf of of Montreal. It finished with Sigur Rós, whose version somehow lasts sixteen minutes and twelve seconds and really shouldn't have been allowed onto this compilation. But I can't complain, it's too beautiful.
Wintson McMillan — Pinkies
It's likely you've never heard Winston McMillan. He's still pretty underground, and whether that remains so depends on his remarkable selling strategy. Like so many musicians looking to take direction from Radiohead's success marketing an album online, McMillan opted to forego a traditional release and find another method of distribution.
Recognising that Radiohead had built up an audience with years of touring and recording, McMillan opted to instead create an aura of mystery around himself and his album. His idea is this: he offers the album online, but not in exchange for money. He will only send it to you if you send him your little finger. This paints the album as something unique, I suppose, and attainable only to a select few committed fans. The hype was to be enormous. I decided it a sacrifice worth making for this audience.
What does it sound like? A bit like Kaiser Chiefs, I suppose. Pretty awful really, but I'm not leaving it out given what I paid for it.
Francis Gormand — The New Galway Waltz
Francis Gormand has been releasing his Sounds of the West albums for nigh on twenty years now. Famously popular with the meditation crowd, he takes the simple sounds of rural and coastal Ireland and colates them into pleasant background sounds for those who want it.
This year a change of some sort came over the man. I don't know if it was a deliberate attempt to strike out into new areas or simple an adapation to the changing times, but in February he release an album unlike anything made previously. The soft winds and bleating lambs of previous efforts are still present, but are entirely overshadowed by new sounds such as the regular whump of wind farms in Galway. Construction of holiday homes in remote communities. Traffic jams grinding their way though small towns. The album clangs and clunks with an unsettlingly slow rhythm. Presumably some sort of commentary on the new Ireland, I wonder if Gormand foresaw his album being so thoroughly embraced by the industrial music scene. In a few short months he has become one of the most notorious crossover artists of all time.
of Ballina — Self Titled
You know the way Kevin Barnes is pretending to be Georgie Fruit this year? Well that left Peadar Minksy free to be Kevin Barnes! It's all perfectly legal and above board apparently. The narrative runs thusly: Kevin Barnes moves to Ballina and changes the band's name accordingly. The debut album moves from experimental pop to Irish showband ballads. It's quite good, if that's what you're looking for. If you're confused at this point, well so am I. I'll leave it there so.